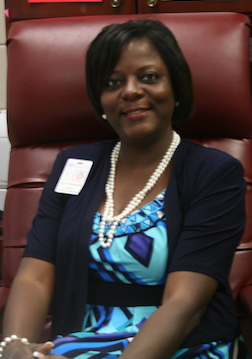 Dr. Cynthia Hammond
Principal
478-929-7820
Dear Parents,
I am extremely excited about this school year and look forward to assisting in your child's educational success. The entire faculty and staff at Westside want you to be our partners in educating our youth. We need you to work with us in addressing the individual needs of your child, volunteering at school functions, and just supporting us in all areas. Our mission is to "Produce High Achieving students." Our vision is to "create high-levels of learning through collaboration, results, and a culturally responsive environment. We have high expectations that all of our children will be taught the skills necessary to become successful, productive citizens and life-long learners. Our school theme is "Learning Can Take Us Anywhere."
I encourage you to keep in constant communication with your child's teacher and track his/her educational progress. There are several ways to communicate with your child's teacher. You can request a parent conference, you may email, utilize Class DoJo and via telephone.
My door is always open to you! I welcome positive feedback and will listen to any concerns that you may have concerning your child's education. I look forward to seeing you at the Best Side!!!
Sincerely,
Cynthia Hammond